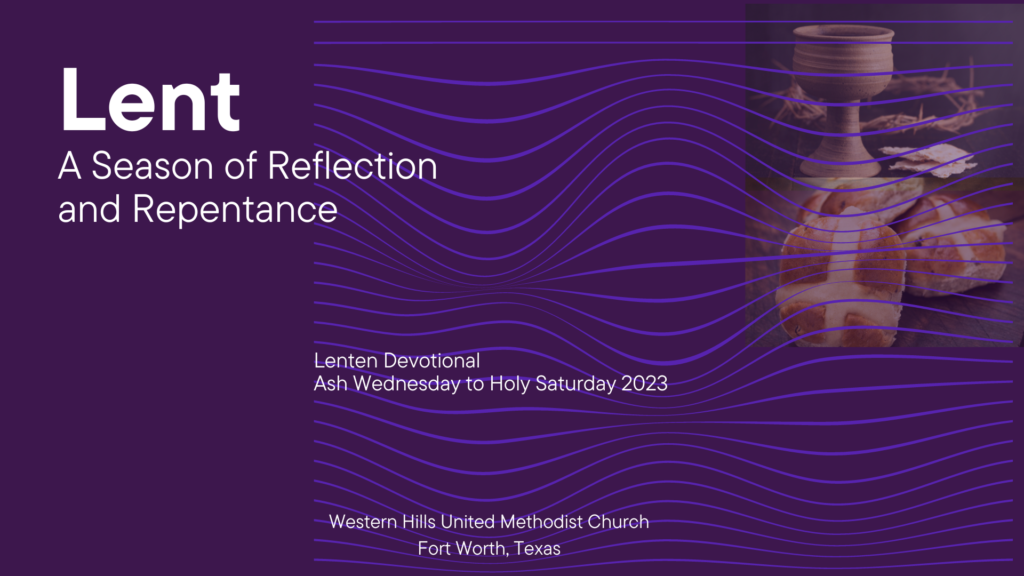 Devotionals for the Season of Lent 2023
Ash Wednesday to Holy Saturday 
February 22, 2023 to April 8, 2023
Western Hills United Methodist Church
2820 Laredo Drive, Fort Worth, Texas 76116
817-244-1153
Remind: text to 81010 and enter @westernumc
Follow us on Facebook, Instagram, and YouTube.
#westernhillsmethodist
Download our church app!
The ShareFaith App
(Select Western Hills UMC – Fort Worth)
Editor: Sela E. Finau
Each of the contributors chose Scripture quotations and translations/versions. If one was not selected, the New Revised Standard Version (NRSV) of the Bible was used. 
Any errors or misprints in this booklet are unintentional; we ask for grace. You may, however, address any concerns with the editor.  
Copyright © Western Hills United Methodist Church 2023. 
All Rights Reserved.
Acknowledgment
Thank you to all members and staff who were gracious with their time and willing to dedicate some time and thoughts to writing these beautiful devotionals. May you be blessed with these wonderful inspirational stories and devotionals written by your Western Hills family members as they share their God stories with you. May we firmly hold on to our faith and the hope that binds us in the power of the Resurrection.  
'Ofa lahi atu, Pastor Sela
+++
Introduction 
Welcome to Lent, and Blessings to you!
Thank you for picking up this booklet. Whether you are a member or friend of Jesus, we are delighted you are holding this little booklet. May the stories within encourage and challenge you to walk closely with Christ. 
As we begin this season of Lent, I encourage you to spend time in prayer, not only for our families and friends but also for our surrounding communities, our country, and the world. Take time out of your regular, daily schedule to pray and reflect on God's grace and love. Spend some time looking at your life and the course of living you are on and God to lead and guide your life more directly and purpose-filled each day. 
I hope that these Lenten devotionals will enable you to have a joyous, meaningful, and growth-filled season as your journey moves closer each day to Holy Week and, ultimately, Easter. 
Welcome to Lent 2023!
+++
History of Lent 
Lent is a season of forty days, not counting Sundays, which begins on Ash Wednesday and ends on Holy Saturday. Lent comes from the Anglo-Saxon word lencten, which means "spring." The season is a preparation for celebrating Easter. Historically, Lent began as a period of fasting and preparation for baptism by converts and then became a time for penance by all Christians. The First Sunday describes Jesus' temptation by Satan, and the Sixth Sunday (Passion/Palm Sunday), Christ's triumphal entry into Jerusalem, and his subsequent passion and death. Because Sundays are always little Easters, the penitential spirit of Lent is usually tempered with joyful expectation of the Resurrection.
In the name of the Church, you are invited to observe a holy Lent: by self-examination and repentance; by prayer, fasting, and self-denial; and by reading and meditating on God's Holy Word. AW
+++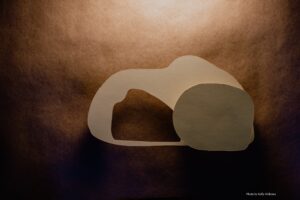 Easter/Resurrection Sunday April 9, 2023 Easter Meditation / Prayer Gracious God, on this holy Easter day, we lift our hearts in thanksgiving for the gift
Read More »
Hits: 5