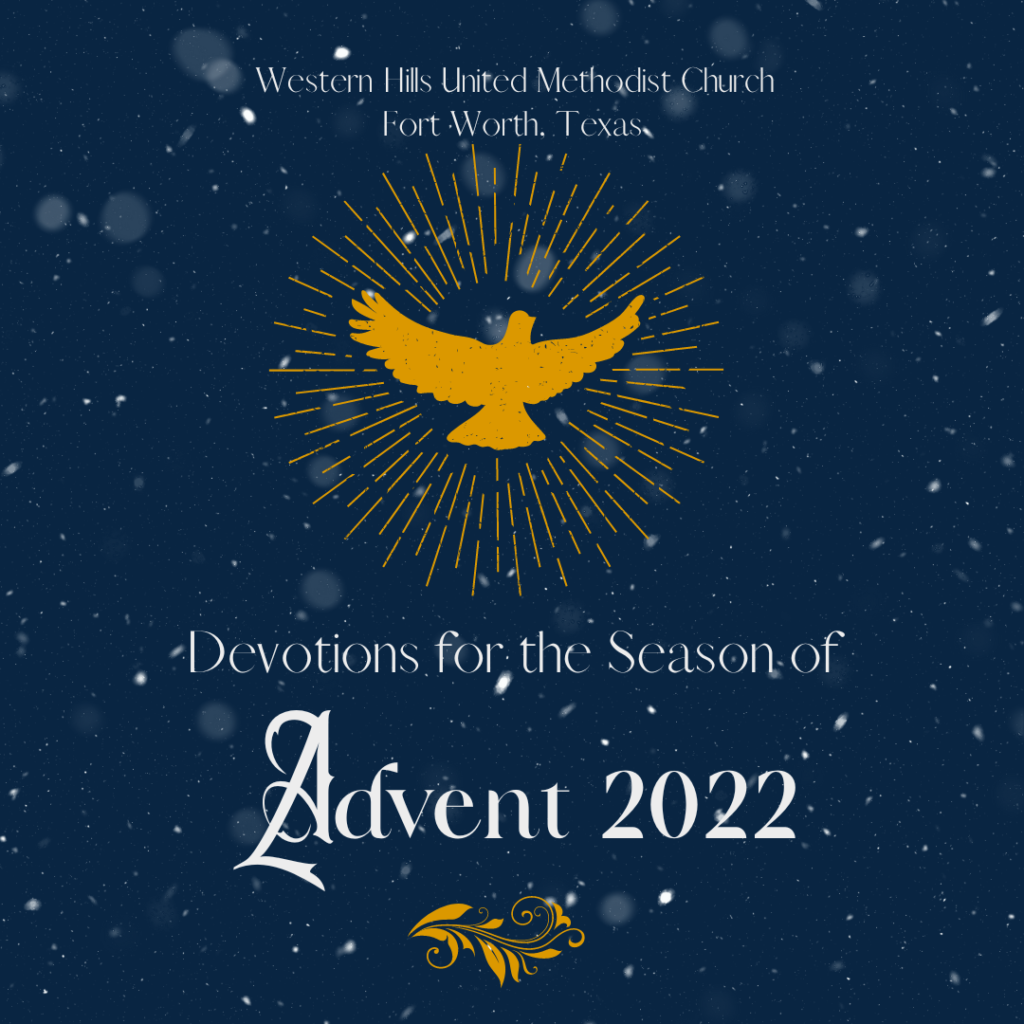 Devotionals for the Season of Advent, 2022
Editor: Sela E. Finau
Each of the contributors chose Scripture quotations and translations/versions. If one was not selected, the New Revised Standard Version (NRSV) of the Bible was used.
Any errors or misprints in this booklet are unintentional; we ask for grace. You may, however, address any concerns with the editor.
Copyright © Western Hills United Methodist Church 2022. All Rights Reserved.
Acknowledgment
Thank you to all members and staff who were gracious with their time and willing to dedicate some thoughts to writing these beautiful devotionals. May you be blessed with these wonderful inspirational stories written by your Western Hills family members as they share their God stories with you. As we journey to Bethlehem, may the Hope, Love, Joy, and Peace of Christ bless you abundantly in this Advent season and beyond. Malō 'Aūpito!
Introduction
Advent
Advent is a season four weeks before Christmas. The word Advent derives from the Latin adventus, which means "coming," which translates to the Greek word parousia. In the 4th and 5th centuries, Advent was a season of preparation for the baptism of new Christians at the January feast of Epiphany. By the 6th century, Christians connected the Advent season to the coming of Christ, not the first coming, but his second coming in the clouds as the judge of the world. In the Middle Ages, the Advent season was linked to the first coming of Christmas.
Indeed, today, "The season proclaims the comings of the Christ whose birth we prepare to celebrate once again, who comes continually in Word and Spirit, and whose return in final victory we anticipate. Each year Advent calls the community of faith to prepare for these comings; historically, the season was marked by fasts for preparation."[1]
The Advent hymn, "O Come, O Come, Emmanuel," represents the church's desire during Advent.
O come, O come, Emmanuel,
And ransom captive Israel,
That mourns in lonely exile here
Until the Son of God appears.
Rejoice! Rejoice!
Emmanuel shall come to thee, O Israel.
Welcome
Welcome to Advent, and Blessings to you!
As we begin this Advent season, the days are getting shorter and nights longer. Some of us would rather not operate in the dark, while others do not function well at night. Advent calls us into a season of light. We welcome the light because it illuminates both the good parts of ourselves and those areas that need change.
As we journey to Bethlehem and anticipate the second Advent, may this be the season and year we hold on to God's grace and allow it to dispel the enslaving aspects of our culture that pulls us away into places of darkness. May we re-focus our attention on the freedom and love that Christ brings to us on Christmas.
May these Advent Devotionals help you to have a joyous and growth-filled season of enlightening grace and love.
Happy Advent! 'Ofa atu!
Pastor Sela
[1] The United Methodist Church: Book of Worship (Nashville: The United Methodist Publishing House, 1992), 238.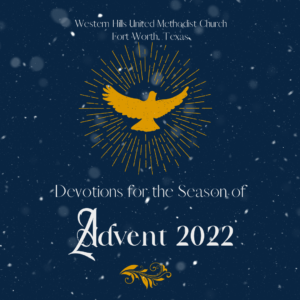 Monday, December 26, 2022 Rev. Sela Finau Look Forward by Looking Back Scripture: Isaiah 9:1-7 (NRSV) But there will be no gloom for those who
Hits: 22